Adoptable Pets: 222071
Felix
Paws along the River . org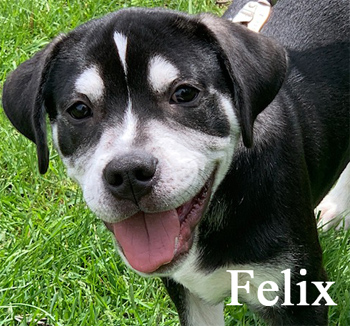 Hello! My name is Felix
My status is: Adoptable
My age is: 0
I am a N/A Husky mix and weigh around 28lbs.
Additional Info:
My Paws ID# is 222071
My colors: Black and White
Stray: Yes
Altered: no
Special Needs: N/A
Bio:
Hi everyone! My name is Felix. I am a very handsome, very smart young pup looking for a family of my very own. I have endless energy and love to play all day. I am very social and do well with other dogs, but I cannot live with cats. My new family will need lots of patience and time to train me. An obedience class will be necessary to teach me what I need to know to make the best pet ever. I am a very happy boy with tons of potential. If you have been considering adding a puppy to your life, I would be a great choice.