Adoptable Pets: 223018
Ramona
Paws along the River . org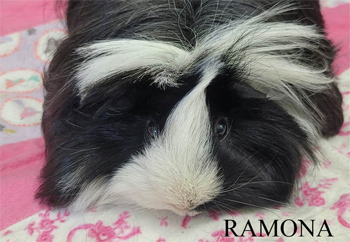 Hello! My name is Ramona
My status is: Adoption Pending
My age is: 4
I am a female Guinea Pig and weigh around 1.5lbs.
Additional Info:
My Paws ID# is 223018
My colors: Black and White
Stray: No
Altered: yes
Special Needs: N/A
Bio:
Hello everyone! My name is Ramona. I am a gorgeous black and white Peruvian guinea pig in search of a home to call my own. I've had a bit of a rough life. My siblings and I were found dumped in the woods a few years ago. We were brought to Paws where we were cared for until a family adopted us. Unfortunately the family's situation changed and they didn't feel they could give us the attention we deserved and returned us to Paws. I am a very gentle soul who would love to be part of your life. You can see me at Paws.